Ways you can Make Your Roof More Eco-Friendly
If you're building or modifying a house in as eco-friendly a way as possible your main priority should be the roofing. Not only is this where most energy is lost from the home, it is also one of the areas we have some of the most diverse and innovative solutions. Smart selection of materials, design, and execution can make massive improvements to the cost of running and building a home, and help protect your home against weather and insect damage. Here are some of the most common and effective solutions for homebuilders.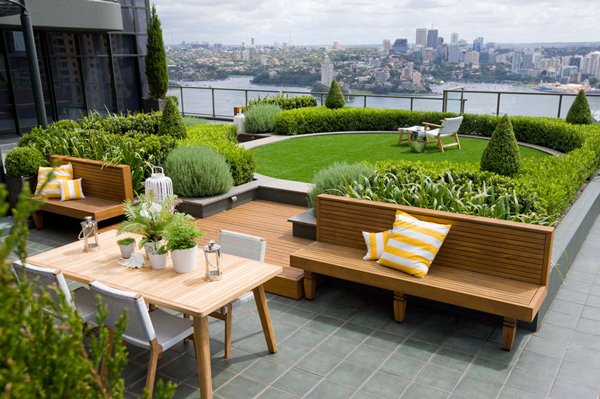 Image source: 
http://homedesignlover.com/wp-content/uploads/2011/12/1-cityRooftop2-5.jpg
 1. Use Recycled Materials
Recycled materials can vary wildly, both in price and type. Some synthetic tiles, for instance, are produced from post-industrial waste, which is great for the environment as it stops much of this material ending up in landfill. These tiles are also recyclable afterthey have been used as roof tiles, so the benefit to the environment of using these is extraordinary. For a more old-school approach, terracotta tiles have been used for centuries, and are also one of the most attractive options, as well as ecologically sound. These can be made from old bricks, pavers, or tiles. While terracotta tiles are beautiful and recyclable, they are heavy and expensive, and chipped tiles will need to be replaced.
 2. Metal Roofing
The benefits of metal are obvious from the outset - it's affordable, sturdy, and requires little-to-no maintenance. It's also relatively easy to install. Colorbond is particularly popular in the Australian market as it comes in a variety of colours that not only offer plenty of aesthetic options, but allow homeowners to choose lighter colours in order to keep the roof cooler than darker materials. As Colorbond is produced for the Australian market, it is built to withstand the typically heavy battering of the weather and insect life, though as with anything, colour will eventually fade. Luckily it can be repainted, rather than replaced, though this should be done by a professional.
3. Roof Gardens
The most modern trend to catch on in terms of roofing are 'green roofs', essentially gardens that sit above a home providing insulation and beautification of a more organic variety. These are created by installing a waterproof membrane along a roof barrier. As you may expect, this is not a cheap, nor easily maintained option, and you will need to ensure that your area can support the amount of water this elevated fauna will require. The eco-benefits are immense however, and go beyond mere insulation to providing valuable greenery that in some cases you can even enjoy as a green space. To read more about these unconventional roof gardens see here:
http://news.domain.com.au/domain/diy/diy--rooftop-gardens-20120829-250aa.html
Ultimately, going green is a long-term thing, and while there are plenty of measures that can be taken, having a long-term strategy to maintaining those savings - both financial and ecological, is crucial. Luckily there are plenty of services available that can help focus on those long-term goals and create plans for sustainable and green futures. Check out the following link for more info:
http://www.ensafegroup.com.au/environmental/environmental-management-plan