Facts about Mahatma Gandhi
15. Revered the world over for his nonviolent philosophy of passive resistance, Mohandas Karamchand Gandhi was known to his many followers as Mahatma, or "the great-souled one."
14. He was not born a courageous, outspoken leader. In fact, in his autobiography, he says that, as a boy, he was so shy that he would run home from school because he could not bear to talk to anybody.
13. Once he was boarding a train during which one of his shoes slipped and fell on the tracks.He then removed his another shoe and threw it near the first one just to help the person who would find the pair.This shows that how kind and helping he was.
12. He was born on October 2, 1869 in Porbandar, India.
11. Mahatmas Gandhi was the primary leader of India's independence movement and also the architect of a form of civil disobedience that would influence the world.
10. Mohandas was just 13 years old when he married Kasturbai Makhanji. Kasturba was 14 years at the time of this union. They had their first child when he was 15 years old. However, the child did not survive for long.
9. Gandhi got his start as an activist in South Africa, not India.
8. In 1886-87, Gandhi appeared for the matriculation exam at Samaldas College in Bhavnagar, Gujarat, and barely managed to clear it. His was a family of lawyers and so, his father wanted him to study law and become a barrister. 
7. Between 1893 and 1914 Mahatma Gandhi lived in South Africa where he was practicing law.
6. Mahatma Gandhi studied law and came to advocate for the rights of Indians, both at home and in South Africa. Gandhi became a leader of India's independence movement, organizing boycotts against British institutions in peaceful forms of civil disobedience.
5. He was a walking enthusiast. Walking, he said, "is justly called the prince of exercises". He began enjoying long walks in high school, preferring lengthy rambles to organized sports. As a law student in London, he saved money by walking as many as eight to ten miles a day.
4. Time Magazine, the famous U.S. publication, named Mahatma Gandhi the Man of the Year in 1930.
3. When he was a child, he was afraid of the dark.
2. Gandhi used to beat his wife up routinely. He had also denied sex to her for decades.
1. He was killed by a fanatic in 1948.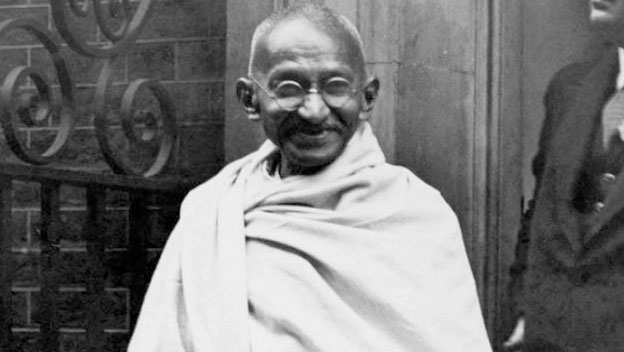 Related Content:
Interesting Facts about Muhammad