Pictures of fall leaves taken with my cell phone while driving in the car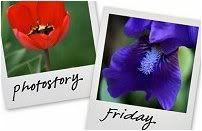 Hosted by
Cecily
and
MamaGeek
And the photostory is: I was driving through a local neighbourhood and I was impressed by the number of leaves on the ground. So I decided to snap some pictures. Don't worry... No cars were harmed in the taking of these shots - I slowed down and, in most cases, I even came to a complete stop before using my camera phone.
Now I just need to get a real camera. Although I kind of like how the phone wonked out that last shot. The perspective is so out-of-whack it's kind of cool. I also like the quality of the light in the shots... I think it looks the way it does because the sun was filtered by the coloured leaves on the trees and - as an added bonus- because the camera phone blurs the image slightly with any movement. I like how they turned out.
For more photostories click over to
What Works For Us
or
My Chaos My Bliss
.
Want to play along? Get the rules by clicking the Photostory Friday logo at the top of this post.