A love letter to my mother...
Happy Mother's Day, Mom... A Love Letter
I want to take this time to write you a love letter. But how do I begin? You have always been a wonderful mother to me, from the very beginning. I remember the stories of when I was a baby and was in and out of the hospital. When I was home, you slept with your hand through the rungs of my port-a-crib, on my little chest, just to be sure I was still breathing. You were always so un-selfish. Vividly, I remember when my tooth was knocked out on Easter morning. As you carried me into the dentist's office, I remember seeing all that blood on your right shoulder. How in the world did you find a dentist open on Easter?
I loved the way you took such good care of me when I was sick, and you know how often that occurred. From the soothing wrist upon my forehead, the lap I could snuggle in, to the bandaged knees, you always gave me such comfort. I remember having tomato soup and saltines at the table on Gary Street, when I stayed home from school. I still think of Tomato soup as love and comfort, every time I have it.
As a child I thought you were the bravest woman in the world. You divorced when no one else was, or so it seemed. You learned to drive, and you got a job, unlike any other mothers I knew. You did the house work and the yard work, and even sang while you did it. I learned from your determination and optimism.
I remember falling into trouble at age fourteen. You took charge and made changes for me, only to help me grow. I hated it at the time, but as a mother and grandmother, I now know how protective you were being of me. You were doing your best. The good that came out of that predicament, was that the barriers of communication were tore down. After that, I found talking to you, much easier. Without condemnation, I found you to be a safe place for me to land. Thank you for always listening so well to me. I love that for my whole adult life we could just talk about anything, and everything. I needed that, and still do.
It is funny how I remember my birthdays when I was little. The whole family would be there; all the aunts and uncles, cousins and grandparents would come over. And there were hot dogs, root beer, watermelon and ice-cream. And to top it off, there were also fireworks! Little did I know, you were combining my birthday with the Fourth of July! I always thought you loved me best!
Later, as I became older, you let me pick whatever I wanted for my birthday dinner. Year after year, it was always the same, :Artichokes and root beer floats. Thank you mom. That was really special to me.
It was hard to move so far away from home, when I moved out. I was homesick for a very long time. I cried many tears, but I too was determined. I wanted to be a grown up, and coming to Sacramento was my first opportunity to really try out that role. Looking back, there many times that I wished I had stayed in our home town, but I can't undo the choices I made back then. Was it fate that had us move back south, just months before I lost that first pregnancy? I still remember your loving arms around me when it happened. I was so relieved to have your support while I cried and cried.
Thank you for being excited for us, when we conceived again. Truly mom, I really don't know how I would have made it through that first year of mothering my own daughter, without your encouragement. I figured having a baby was gonna be like "Hallmark and Gerber," but it wasn't. It was way harder than I ever dreamed. You were my own personal cheerleader, and I relied heavily on your wisdom and compliments. Not only did I benefit, but Shannon as well. Look how terrific she turned out! I thank you from the bottom of my heart, for always being there for me.
I am so fortunate that you are my mother. I love you immensely. I just wanted to take the time to write you on this very special Mother's Day. I know it is your first without your own mother. I am sorry for the pain that you may be feeling. I am sure you miss her very much. You were a good daughter to her.
Thank you for loving me as you have. You are the best mother I could ever have wished for. Thank you every day of the year.
Your Loving Daughter, Karen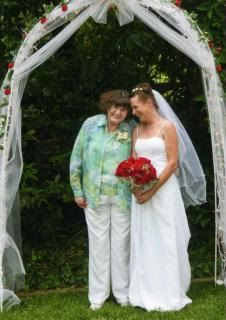 (My Mother and I, at my wedding, nearly three years ago.)