April is Autism Awareness Month
Did you know that April is Autism Awareness Month?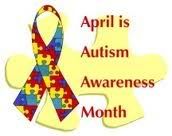 Chances are you know someone with autism and if you don't it is highly likely you will meet someone with autism in your life time. 
Autism is one of 5 pervasive developmental disorders that affects an average of 1 in 110 children born.  The other four are Aspergers Syndrome, Rhett's Syndrome, Fragile X, and PDD-NOS.  Together these five disorders are known as "Autism Spectrum Disorders" or ASD's.
Autism is a worldwide epidemic.  It affects people of all races, ethnicities and socioeconomic groups.
There are 1.5 million people in the US alone that have an ASD.  And according to our government, the number of new cases each year is increasing by 10-17% with no known reason for the increase.
Did you know that most insurances will not cover "autism" related services such as speech therapy, physical therapy, or occupational therapy?  Although, some states have enacted legislation to make sure people with an ASD get coverage.
Medical expenditures for a person with an ASD exceed those without an ASD by up to $6200.00 a year.
According to the CDC, a person with an ASD will spend approximately 3.2 million over their lifetime in medical care.
There is no known CAUSE or CURE for ASD's. 
Similarly, no two cases of ASD's are exactly alike.
People with ASD's sometimes have difficulty in social situations.  They may or may not get things like sarcasm or puns or jokes.  They may be very literal in nature.   They may or may not give you eye contact.  They may have repetitive habits such as rocking, swaying or stemming. They may or may not be able to express themselves effectively or appropriately.  They may have severe anxiety.
All of that aside...they want what we all want.  They want to be loved and accepted for who they are. 
Please don't shy away...you may be the only person to make their day.  Give them a smile, say hello, ask them how they are doing. Be a friend. Even if they can't express it at the time, they are probably happy you reached out! 
April is Autism Awareness Month...you can make a difference!
Image taken from google images.  Statistics mentioned above were found on the CDC website and Autism Speaks website. Please visit these websites for more information!